Flagler Volusia Public Leadership Institute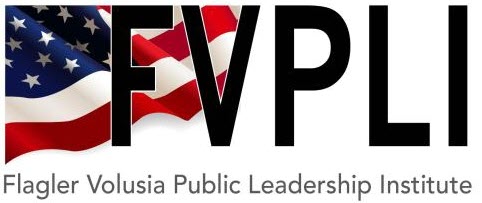 The Flagler Volusia Public Leadership Institute (FVPLI) is a free leadership program of the Flagler County Chamber of Commerce and Daytona Regional Chamber of Commerce for leaders who want to engage in the local policy and political process and strengthen the voice of the local business community to promote a robust economy and vibrant quality of life.
The program, which has produced local business-minded candidates, elected officials and future public leaders, is moving beyond candidate training to teach select participants how to use their business experience, skills and talent to advocate for pro-business policies, engage in political campaigns, land appointments to influential government boards and commissions or explore a future run for elected office.
The class will meet September 6 & 7 at the Daytona Regional Chamber of Commerce and Sept 13 & 14 at Flagler County Chamber of Commerce.  All classes will be held from 8AM - 4PM with a welcome reception Thursday, September 5 at 5:30PM at the Daytona Regional Chamber of Commerce.
Applicants will undergo a competitive selection process and only a limited number will be invited to participate.  A full scholarship is provided to all members, thanks to the generous support of program sponsors.
If invited, participants will be required to attend all four sessions, for the entire length of the program.  Failure to comply with this requirement will result in dismissal from the program.
The curriculum will be taught by experts in public leadership, policy and advocacy and include topics, such as Preparing for Opportunities in Public Leadership; Understanding the Political Process and Political Environment; Strategies to Transition from Private to Public Life; Advocacy and Policy Objectives for the Business Community; Political and Advocacy Fundraising; Building a Grassroots Coalition: Keys to Political Messaging and others.  Elected leaders will also share their insights and experiences.