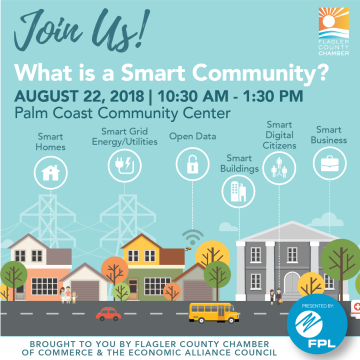 What is A Smart Community?
Brought to you by the Flagler County Chamber of Commerce & the Chamber's Economic Alliance Council, the "Smart Community Luncheon" will be an educational event aimed at showcasing components that make up a smart community. Learn about the technology movement that is shaping our community for the future. From transportation and utility systems to the business community, hear what our local civic, business and community leaders are implementing to make Flagler County a Smart Community.
The event will be lead with a keynote presentation by Jeff Sheffield, Executive Director for the North Florida Transporation Planning Organization about Smart City technologies.
Followed by a working lunch where Innovative Sponsors will have a few minutes each to present how their businesses are working to be SMART.
The final portion of the program will consist of a panel discussion from our local municipalities about the integrations they've currently invested in and what is to come. The panel will be moderated by Helga van Eckert, Executive Director for the Flagler County Dept. of Economic Opportunity.
City of Bunnell
City of Flagler Beach
City of Palm Coast
Flagler County
Our approach will be holistically what a "Smart Community" is and incorporate businesses and how they are improving processes, etc. such as schools, banking or IT companies.
What is A Smart Community?
A smart city is an urban area that uses different types of electronic data collection sensors to supply information which is used to manage assets and resources efficiently. This includes data collected from citizens, devices, and assets that is processed and analyzed to monitor and manage traffic and transportation systems, power plants, water supply networks, waste management, law enforce-ment, information systems, schools, libraries, hospitals, and other community services. The smart city concept integrates information and communication technology (ICT), and various physical devices connected to the network (the Internet of things or IoT) to optimize the efficiency of city operations and services and connect to citizens. Smart city technology allows city officials to interact directly with both community and city infrastructure and to monitor what is happening in the city and how the city is evolving.
Source: WikiPedia