Young Professionals Group

With a mission "to grow, develop and promote economic opportunity for young professionals and entrepreneurs in Flagler County," the Young Professionals Group of Flagler County (YPG) became part of the Chamber in 2012.
YPG is a dynamic organization that connects, empowers and engages young professionals in Flagler County. YPG members are dedicated to building personal and professional relationships, while also giving back to the community. Its primary fundraisers are the annual Putt Crawl and Farm to Table Dinner. Proceeds from both events are donated to the Youth Leadership Program that provides participating high school students with a better understanding of Flagler County for community improvement purposes.
Up and coming business professionals looking to volunteer, connect and have some fun are encouraged to join the group and attend a monthly social event held the first Wednesday of every month at 6PM. Click here for the application or call the Flagler County Chamber at 386-437-0106. Stay up to date and like the YPG of Flagler County on Facebook.

JOIN THE YPG FOR MONTHLY NETWORKING SOCIALS HELD THE FIRST WEDNESDAY OF EACH MONTH
Network with like-minded professionals in their 20's, 30's & 40's. Socials are held at various restaurants around Flagler County and the fun starts at 5:30pm. Admission is free for YPG Members and is $10 for prospective members. All members and paying guests receive 2 free drink tickets!
Like recruiting other young professionals to join our organization? Contact Emily Kirshaw
Do you like planning events? Ask about joining the Socials Committee. Contact Hallie Hydrick.
Or help plan YPG's two large fundraising events for the Flagler Imagination Library and Youth Leadership. Contact John Birney Jr.
Are you interested in the future of our youth? Inquire about our Youth Leadership Flagler program, and get involved with the class of 2020-21. Contact John Birney, Jr.
Is Professional Development your thing? Join our committee! Contact Jeremy Pombier.
Are you a marketing or graphic design guru? Help us grow YPG. Contact Ximena Alfero.
Modeled after Leadership Flagler, a program that develops aspiring leaders of Flagler County, Youth Leadership Flagler (YLF) provides participating junior high school students with a better understanding of Flagler County for community-improvement purposes.
YLF is chaired by John Birney, a board member of the Young Professionals Group. Now in its seventh year, the 2019-20 Youth Leadership starts its journey each fall with 15 students.
If selected, the cost per participant is $25 per year. This fee is non-refundable. Scholarship Information is available upon request. For more information, please contact the Flagler County Chamber at 386-437-0106.
Youth Leadership Flagler sessions are held one day a month from September 2020 to April 2021.
Stay tuned for more information about our next class.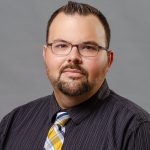 Michael Schottey
Executive Director
Nova Digital Marketing and Consulting
THANK YOU TO THE YPG'S CHAMPION & MENTOR SPONSORS