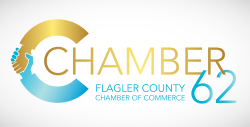 Chamber 62: An Investment in Excellence
We'd like to thank our Chamber 62 partners who have given support so that the Chamber can invest in new technology, infrastructure, marketing campaigns, social media platforms, staff training and development, enhanced member benefits, and operational efficiency to create a more sustainable and competitive model of engagement, visibility, connections and resources for all of our existing and new members.
Thank you to the following Individuals and Companies for their support (As of June 28, 2018)
Alliance Financial Partners
Chiumento Dwyer Hertel Grant & Kistemaker, PL
CenterState Bank
Craig Flagler Palms Funeral Home & Memorial Garden
AdventHealth Palm Coast
Gerling Travel Group
Hammock Beach Resort
Intracoastal Bank
JBirney Financial
Joseph & Kathy Marotti
Joel & Lynn Fallon
John & Margaret Subers
M & M Development
The Joe Mullins Company
Palm Coast Observer
Palm Coast and the Beaches Real Estate
WNZF News Radio – Flagler Broadcasting
Take this great opportunity to be part of something very special. Be a contributor! Click for options.