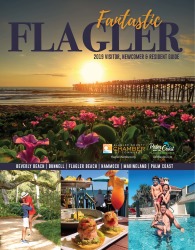 Fantastic Flagler Visitor, Newcomer & Resident Guide
Welcome to Flagler County
On behalf of our residents and businesses, we invite you to enjoy our hometown hospitality.
Fantastic Flagler Visitor, Newcomer & Resident  Guide, published by the Flagler County Chamber of Commerce is the only visitor and newcomer guide for Flagler County. Fantastic Flagler is updated, redesigned and published each year, and 20,000 copies are distributed to market Palm Coast and the Flagler Beaches as a vacation and relocation destination, and mailed to requestors across the US.
Each issue contains a wide range of valuable information including:
Welcome Section & Where We Are
Our neighborhoods Palm Coast, Flagler Beach, Bunnell, Marineland, Beverly Beach & The Hammock
Transportation Services
Our Unique Beaches
Family friendly fun
Weekend getaway ideas
Destination Weddings
Arts & Culture and historic sites
Water activities, hiking & biking, and outdoor sports
Where to Eat
Places to Stay
Calendar of events
Moving to Flagler County & real estate services
Starting or owning a business in Flagler County
Demographics & housing options
Schools & educational facilities
Healthcare services
Local Resources & Important numbers
Chamber preferred business directory
Want to advertise in Fantastic Flagler
Fantastic Flagler publishes annually and the Chamber prints more than 20,000 copies each year. Distribution includes mailed copies to visitors and those looking to relocate, as well as sites throughout the county like the Property Appraiser's office, city offices, banks, health care locations, banks, real estate offices, hotels, campgrounds, area attractions and the Chamber's visitor centers.
Please contact:
Robbin Wilson, Membership & Marketing Director
386-206-0954