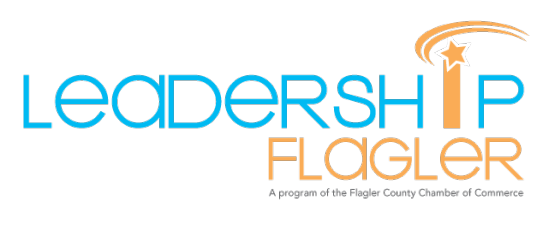 A recap of the 25th Class of Leadership Flagler brought to you by the Flagler County Chamber of Commerce
Now in its 27th year, Leadership Flagler is a three-program to engage aspiring and current community leaders. The three-month program seeks to deepen understanding of Flagler County, its issues and opportunities, and encourages participants to take active roles as stewards of and advocates for positive change.
An alumni council of Leadership Flagler graduates oversee the program, develop the curriculum and select up to 20 applicants to participate each year. Starting in February , classes meet Wednesday mornings from 8:15am until 12:30pm with sessions covering government, health and human services, art and culture, education, agriculture and growth management. Class members are expected to comply with the program's attendance policy and to start a community service project prior to graduation.
Leadership Flagler is one of nearly 700 programs nationwide devoted to shaping high-profile community leaders. Since its start in 1993, Leadership Flagler has graduated more than 285 professionals. For more information, contact Robbin Wilson at 386-437-0106. Click to download the application.
The deadline to apply for the 2020 class is February 4, 2020.
NOTE: Be sure to download the application as a PDF to your desktop before filling it out. The file will not save if viewed and completed in your browser.
Before Leadership Flagler, I'd been working in Flagler County for a few years and attended several Chamber events, but I didn't feel like I had any real, deep connection to the community. I didn't know a lot about other businesses and industries in the county, or how our local governments functioned.
After Leadership Flagler, my perspective has completely changed. I was fortunate to be in LF24 with a group of smart, creative business professionals from a wide array of businesses. From our very first meeting and team building event, I felt like I was among friends. Through the program's learning and service activities, I came to realize that Flagler County is a very special place to work and live.
I'm proud to be a Leadership Flagler alumni and will always be grateful for my time with my classmates from LF24.
Joseph Barnes, Marketing Manager
Yellowstone Landscape
Member since: 2016
386-437-6211
"Leadership Flagler proved to be an incredible opportunity for me to learn about Flagler County while engaging with key members of our business community and providing me the opportunity to market my business. I highly recommend participating in the Leadership Flagler program at the Flagler County Chamber of Commerce. It's a fantastic experience that you don't want to miss!"
Michelle Brown
Owner, Flagler Beach Gift Shop
Flagler County Chamber Board of Directors
Member since: 2012
386-439-0053
"LF 24 was an amazing experience!
The weekly classes opened doors within the county for networking and gaining a understanding of the county we live and/or work in. Putting trust in individuals who were strangers and building strong friendships and business connections has been a wonderful experience. I would recommend this experience to others."
Alicia Vincent, Executive Director
Stewart Marchman Act
Behavorial Health Services, Inc.
Member since: 2001
386-236-3200
"I am thankful for the opportunity to participate in Flagler Leadership 21. Just as the 21st birthday represents a momentous and empowering transition, Flagler Leadership's 21st anniversary has offered a chance to celebrate and participate in the future of Palm Coast and the Flagler Beaches. I greatly appreciate the time and attention given by our community leaders who so enthusiastically presented to our Leadership Class. I look forward to graduating with a newfound wealth of knowledge and ideas. Knowledge, experience and community service is the gift I have received from Flagler Leadership 21. I am thankful for the experience and chance to contribute to the future development of our Flagler County."
David Alfin, PLLC, REALTOR®, SRES®
Grand Living Realty, Inc.
Member Since: 2012
386-585-0903