If you are looking to start a business or move one to Flagler County, here's a document to download that will answer many questions you might have. You may also want to contact one of the Flagler County Chamber's partners below:

Flagler County Department of Economic Opportunity
Economic development is a priority for Flagler County, and the reason why the Flagler County Department of Economic Opportunity (FCDEO) and a nine-person economic development advisory council were created in early 2012. The mission of the Department of Economic Opportunity is to facilitate the expansion and diversification of the County's economic base with targeted businesses that provide sustainable employment opportunities for its residents. For more information contact: Helga van Eckert, Executive Director at 386-313-4071 or hvaneckert@flaglercountyedc.com.
SCORE is a volunteer organization of retired business executives dedicated to helping small businesses owners and those wishing to start businesses. Along with free counseling on all aspects of ownership, SCORE hosts free programs and workshops. To set up a counseling appointment, contact Volusia/Flagler SCORE Chapter 87 at 386-255-6889, call the Chamber at 386-437-0106 or visit www.score87.org.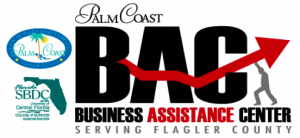 Palm Coast Business Assistance Center
The Palm Coast Business Assistance Center was started in 2011 through a unique partnership between the City of Palm Coast and the University of Central Florida Small Business Development Center. The Center's mission is to help local businesses grow by offering counseling and personalized services. Appointments can be scheduled by calling 386-986-2499, Monday through Friday 8AM to 5PM.
CareerSource Flagler Volusia
CareerSource Flagler Volusia offers comprehensive recruiting assistance and training reimbursement programs that offset the costs of hiring and developing the skills of new and existing employees for all area businesses. In-depth labor market statistics, help with major recruiting events and , in the case of retrenchment, lay-off assistance is available. To learn how these costs saving programs can help your business, visit www.careersourcefv.com or call 386-323-7079.